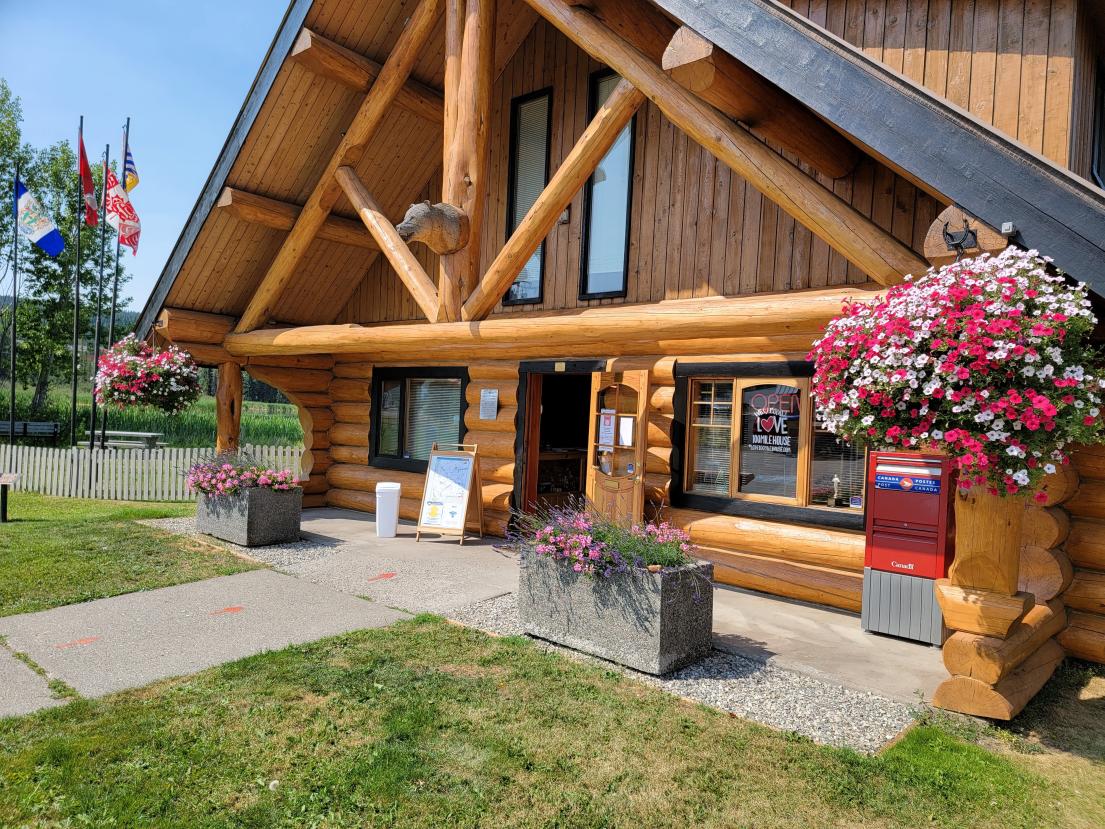 Hours of Operation
Closed Statutory Holidays
| | |
| --- | --- |
| Sunday | Closed |
| Monday | Closed |
| Tuesday | 8:30am - 5:00pm |
| Wednesday | 8:30am - 5:00pm |
| Thursday | 8:30am - 5:00pm |
| Friday | 8:30am - 5:00pm |
| Saturday | 8:30am - 5:00pm |
Location
Box 340, 155 Wrangler Way
100 Mile House, BC  V0K 2E0
More Information
The South Cariboo Tourism Portal Website is a joint initiative of the District of 100 Mile House, the Village of Clinton, the 100 Mile Development Corporation, the Cariboo Regional District and the Thompson Nicola Regional District. SouthCaribooTourism.ca is one of many promotional tactics supported by governments and corporate sponsors such as Tourism BC, Cariboo Chilcotin Coast Tourism Association, along with the tourism properties and the business community. Information on the communities and Corporate Sponsors can be obtained by clicking on their logo at the bottom of each page.

The South Cariboo Tourism Development and Cooperative Marketing Program was established in November of 2001 and is intended to be a "living document" and the website is just one of our marketing and promotion tactics. Tourism is the areas second largest industry and stakeholders are continually developing new products and services to enhance the economic growth in our communities.

While businesses operate separately and competitively the fact remains that in tourism each operator is dependent on each other for success. Recognition of this interdependence by many communities in other parts of the province has helped tremendously in diversifying their economy and better service the visitors needs.

Businesses in the area have joined forces and funds to cooperatively market the South Cariboo to the world. This website is intended to do just that!

For the safety of residents and visitors, South Cariboo Visitor Centre is asking visitors to follow the directive of the federal and provincial governments and please stay within BC (#ExploreBC). We are here to answer questions  via our social media channels or email at southcaribootourism@100milehouse.com. Learn more information on COVID-19 and British Columbia here. For those currently in 100 Mile House & South Cariboo area, every single person's actions can contribute to saving lives. We all must take social distancing recommendations from public health officials very seriously.

Effective March 11 2022, masks are no longer mandatory in all indoor public spaces
Stay at least 2 metres (6 feet) from others in public.

If you or someone you know is experiencing possible COVID-19 symptoms, call the provincial health information hotline at 8-1-1. Business here in the 100 Mile House & South Cariboo Area are open, their hours, and safety procedures varies greatly from business to business.