Image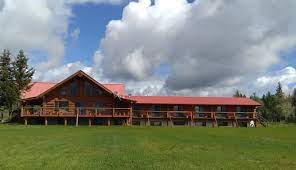 Cariboo Log Guest House locates in the beautiful nature of British Columnbia Canada, it is 493km from Vancouver, 35km from 100 Mile House, 57km from Williams Lake and 295km from Prince George. Highway 97 passes by it. Transportation is convenient, and spacious and safe parking is offered.

There is a wide green lawn in front of the house, in face of Lac La Hache Lake, with a wide view and beautiful scenery. We have six guest rooms, each guest room has an independent entrance, and guests can easily enjoy a wonderful breathtaking lake view from each room.  Beds and bedding are new, wide, and so comfortable that our guests love and enjoy them.  TV and satellite TV programs are provided both in all guest rooms and dining room, also free Wifi, with private bathrooms. We serve hearty, gracious breakfasts, with fried eggs, bacon, sausages, toast, coffee, tea, juice, milk, dessert, fruit, nuts, chocolate, butter, jam, and peanut butter. If lunch and dinner are wanted, there is a restaurant and gas station next door, or you may take a 10 minutes drive to the restaurants in town, they offer nice and tasty food as well.
 Cariboo Log Guest House welcomes guests from all around the world to enjoy a natural and comfortable stay in this beautiful green area! 
Email
grassroot2009@hotmail.com